Q&A: Vancouver-based visual effects supervisor will pack his lucky sponge on Oscar night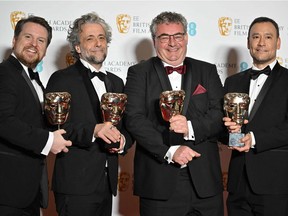 Visual effects artists (L-R) Tristan Myles, Paul Lambert, Gerd Nefzer and Brian Connor pose with their awards for Special Visual Effects for their work on the film Dune at the BAFTA British Academy Film Awards at the Royal Albert Hall in London on March 13, 2022. Photo by BEN STANSALL /AFP via Getty Images
Vancouver-based Double Negative (DNEG VFX supervisor Tristan Myles is one of the four members on the Dune team who is up for Best Visual Effects Oscar at this year's Academy Awards on Sunday night.
Question: How much time do you spend in Vancouver? 
Q: Do you have any superstitions or good luck charms?
A: I have a lucky sponge that my youngest daughter insisted that I take with me on the day of the event. Hopefully it's thin enough to not cause a bulge in my tuxedo jacket.
Q: You already have an Oscar for your work on the 2018 film First Man, so does that take the pressure off or add to it?