Q&A: Vancouver Opera's Tom Wright talks about developing an East Van arts hub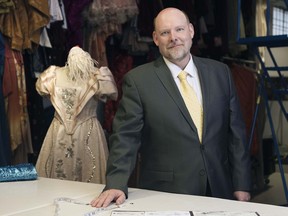 Vancouver Opera's new general director, Tom Wright. PNG
When times are tough, creatives come up with innovative ideas.
One such example is how Vancouver Opera opened up its East Van HQ to other groups in need during COVID-19. The result is a burgeoning arts and culture hub on McLean Drive.
Now, more than just performances such as the upcoming Cavalleria Rusticana in Concert at the Queen Elizabeth Theatre on Feb. 12 and 13 will be coming out of the former Lululemon facility.
Vancouver Opera general director Tom Wright talked about how the addition of office and other space for groups from Pi Theatre and others came about. A 15 year veteran of the company, Wright is on record stating "my commitment is to maintain the artistic and cultural mandates of the Vancouver Opera while ensuring its future financial success." By thinking outside the box and being a good communitarian, he's achieving those stated goals and more.
Wright jokes that facilities management wasn't in the original job description. He's presently rewriting the director of finance administration position to include the additional landlord and operations duties that bringing in tenants has generated.
Postmedia News: In the past, Vancouver Opera's operations were spread out all over town. Was coming into one main space a significant change for the company?
Wright: One of the first tasks I took on was consolidating the five other facilities we rented for all of our various operations into as few as two, if you are counting the Queen Elizabeth Theatre too. Consolidating the orchestra, wardrobe, administration, props/scenery and rehearsal hall into one 30,000 square foot space was a great development for the company. We moved in 10 years ago this summer and just extended it another 10 years.