Russian billionaire Makarov's firm slashes stake in Canadian gas producer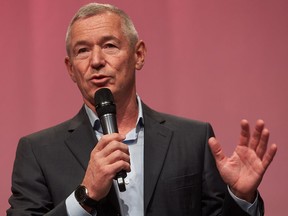 Russian billionaire Igor Makarov's firm sold more than half its stake in Canadian natural gas producer Spartan Delta Corp. Photo by Thomas Frey/picture alliance via Getty Images
Russian billionaire Igor Makarov's privately held investment company has sold more than half its stake in Canadian natural gas producer Spartan Delta Corp for $121.5 million.
Makarov's ARETI Energy SPV said on Monday it sold 15 million shares, or 9.8% of Spartan, for C$8.10 per share. After the sale, it will own around 8.4% of the company.
Russian President Vladimir Putin sent his troops into Ukraine on what he calls a "special military operation" to demilitarize and "denazify" Ukraine. Ukraine and the West say Putin launched an unprovoked war of aggression.
According to a Forbes profile https://www.forbes.com/profile/igor-makarov/?sh=11028cea5c01, Makarov is the founder of Itera, Russia's first independent gas company.
Rosneft bought Itera https://www.reuters.com/article/us-russia-rosneft-itera-idUSBRE9610FB20130702 from its founder in 2013, and the company was later rebranded as ARETI International Group of Companies.