Sam Weber explores an L.A. state of mind on Get Free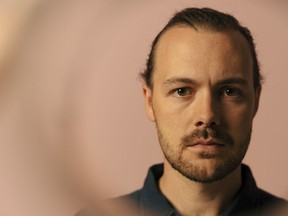 Sam Weber, a formerly Vancouver musician now based in Los Angeles. Photo by Jacob Boll /PNG
Sam Weber 's path to Get Free is a familiar one for West Coast artists.
The Victoria musician picked up a guitar at age 12. Jamming with his brother and father, the late architect Bill Weber, he quickly progressed on the instrument.
At 17, the Berklee College of Music awarded him a summer scholarship. The experience convinced him that singer/songwriters improve through playing, not practising.
By age 19, his chops were honed enough to be heralded for an "expansive blend of driving rock, dream pop and roots influences" in the pages of Guitar Player magazine.
"I recorded my last full-length, Everything Comes True, at United Records in L.A. with producer Tyler Chester who has worked with Madison Cunningham and Andrew Bird, and played with Jackson Browne and others," said Weber. "We put together a big band for that record, and it was such a great opportunity to meet so many of the local musical community down here. After that introduction, it made sense to relocate."
This was reinforced when those contacts led to Weber being tapped to contribute to a compilation album with folks like My Morning Jacket's Jim James, Matt Berninger of the National, Kurt Vile and Tony Bennett. As he prepared to relocate to the City of Angels, the writing for the new album began with plans to follow the format of its predecessor.