Spring Arts Preview 2022: 30 things to do, read and watch this season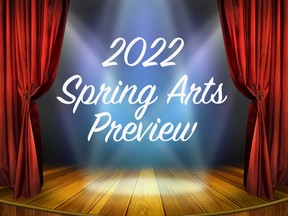 Photo by Getty Images
The spring season is shaping up to be an entertaining one in Metro Vancouver as pandemic-related restrictions continue to ease and more events land on the calendar.
In order to help sort through the entertainment options, our writers have put together their picks for must-see theatre, live music, book, visual arts, dance and classical music events.
As a consequence of COVID, most companies have added online components to their repertoire and will continue to offer streamed, filmed, or audio options alongside live performances.
Other significant changes have been cultural. Over the past few years a new guard of female artistic directors has taken over the region's major theatre companies, and artists of colour have gone from rare to almost commonplace on our stages. Vancouver Asian Canadian Theatre has become a powerhouse. Omari Newton, Kaitlin Williams, Kevin Loring, and Tetsuro Shigematsu are among names to watch. It's beginning to look as though diversity is no longer just a buzzword.
Here are five plays you shouldn't miss this spring: