Strange Breed brings its own style to pop punk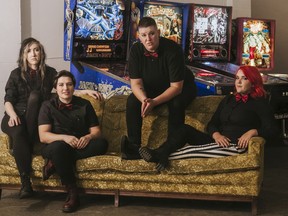 Strange Breed is a Vancouver queer rock band featuring, from left, bassist Jess Dubois, lead guitar Terra Chaplin, drummer Megan Bell-Dupas and vocalist/guitarist Nicolle Bell-Dupas. Photo by Kaitlyn Roth /PNG
When: Feb. 17, 7 p.m.
Where: Rickshaw Theatre, 254 E. Hastings St., Vancouver
Tickets/info: $20.75 at eventbrite.ca
Surprise, the music biz is still all about the boy bands in 2022. What is an all-female, queer quartet with a penchant for pop punk to do?
"We got together Creative B.C. and FACTOR funding to release our debut in 2019, went on a tour and were getting some solid traction," she said. "We were in MRG Group's Elevate Music project, placing second, and played The Vogue. Then we signed to Crank Media, got a booking agent and had this list of coming dates including festivals such as Winterruption in Edmonton and others which looked fantastic."
That was the outlook until those dates were cancelled and the group was left with one local show at the still-standing Rickshaw Theatre. It's a venue that the members know well, having shared bills with a wide-range of local scene players. When the band takes to the stage with veteran singer/songwriter Beau Wheeler and dream pop duo Parlour Panther, it will be in front of a dedicated audience it took time to build.