Teen robbed at knifepoint in New Westminster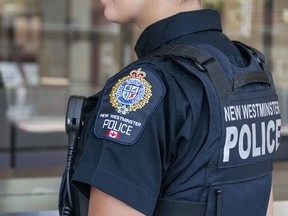 File photo of a New Westminster Police Department officer. Photo by Submitted /NWPD
Police are looking for two suspects after a teen was robbed at knifepoint in New Westminster.
The youth was walking home from school at about 3:30 p.m. on Friday in the area of 6th Street and 3rd Avenue when he was approached by two other youths.
Earlier, New Westminster police say a woman was pepper-sprayed by two suspects when she confronted them in her driveway after they stole the catalytic converter from her car.
After the theft and assault in the 900-block of Chestnut Street last Thursday, the two suspects fled in a black truck.