The White Fortress shows struggles of modern Sarajevo through lens of love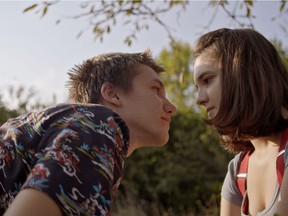 In The White Fortress (Tabija), Faruk (Pavle Cemerikic), and the girl he falls in love with, Mona (Sumeja Dardagan), come from two very different worlds that exist in postwar Sarajevo. The film screens at Vancouver Cinematheque on March 25. Photo by Courtesy of Game Theory Films /PNG
Filmmaker Igor Drljaca was just nine years old when the Bosnian War forced him, along with his mother and brother, to leave Sarajevo and his father behind.
After months moving around to different republics of the former Yugoslavia and Austria the trio reunited with Drljaca's father and the family came to Toronto in March 1993.
"I had a relationship with the city after the war," said Drljaca, who has been nominated for a Canadian Screen Award for best original screenplay for The White Fortress. "I started travelling in 2001, that was the first time I went back. I was 18. Before that I didn't really want to engage with the topic that much. I think I was quite traumatized by everything.
"But I realized as I entered film school, I realized that there was this untapped creative need, that can also be therapeutic, to kind of deal with that city. To deal with themes. To deal with the kind of unresolved ideas I had about that space."
The White Fortress is an emotionally tough story about the long, lingering after-effects of war and the strength of love. In this case it's the kind of teenage star-crossed love that isn't groundbreaking, yet Drljaca manages to build off the familiar story of a touching portrait of a generation stuck in a socially divided city that is still picking through the debris of its dark, troubled past.