Theatre review: Made in Italy's Timoteo's got talent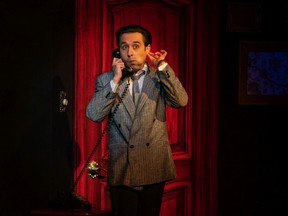 Farren Timoteo in Made in Italy, which runs until April 17, 2022 at the Granville Island Stage. Photo: Moonrider Productions. Photo by Moonrider Productions /PNG
Made in Italy
When: To April 17
Timoteo, artistic director of Alberta Opera, has a beautiful semi-operatic singing voice. But he's a man of many talents.
We get introduced to Salvatore's dinner guests gathered around the long dark oak table at the centre of Cory Sincennes' handsome set: his very funny brother Fillipo and wife, and a kvetchy neighbourhood widow, each vividly sketched with a gesture, pose and accent. Timoteo races around and over the table to play them all with quick changes and pinpoint timing, never missing a beat or breathing hard. Conor Moore's equally quick lighting changes help carve each distinct character.
Another highlight is Francesco's trip to his father's native village in Italy, where a cousin, Pepino, dresses him in the latest style. Adjusting the crotch of Francesco's tight pants and learning The Walk Pepino teaches him hilariously showcase Timoteo's lithe physical comedy.