Things to do for Easter long weekend 2022 in Metro Vancouver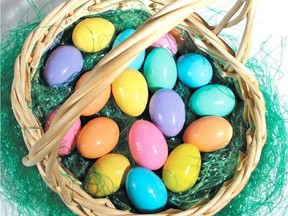 Easter long weekend is coming up! For those of you who aren't so keen to set up your own melted chocolate festival, here are a few options for how to spend your April long weekend. SunMedia
Easter long weekend is coming up! For those of you who aren't so keen to set up your own melted chocolate festival, here are a few options for how to spend your April long weekend.
Grab your family and get hoppin'.
Make your own chocolate Easter Egg cast in dark chocolate! Hand paint your own 15 cm tall Easter egg, cast it in dark chocolate, make your own little bunnies to put inside, put it together, and box it up to take away! Perfect for a fun activity and great for a gift after (or you can just eat it yourself).
• Drunken Chocolatier, 108 – 223 West Broadway, Vancouver
• April 15, 5:30 p.m.; $84.24
North Langley Community Church invites you to bring the whole family for a fun egg hunt, a retelling of the Easter story and yummy snacks too. Event will take place under the west picnic shelter. Friends and family are all welcome.
• Walnut Grove Community Park, Langley Township
• April 10, 2 to 4 p.m.