UN gangster Conor D'Monte wanted 'Traitor' dead, B.C. court has heard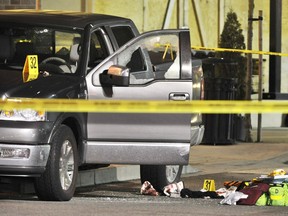 Kevin LeClair, a Red Scorpion gangster who was once aligned with the rival United Nations gang, was shot in Langley in 2009. Photo by Ian Smith /Vancouver Sun
In the months before Kevin LeClair was fatally shot in 2009, United Nations gang leader Conor D'Monte was on the hunt for the man he called "Traitor," witnesses have told a related trial.
LeClair was one of the Red Scorpion gangsters that D'Monte most wanted dead, former UN gangsters turned Crown witnesses testified.
Witness C — his name was protected by court order — said that on the afternoon LeClair was shot "he got an email from D'Monte stating 'Traitor got it.'"
D'Monte was charged in 2011 with first-degree murder for LeClair's death and conspiracy to kill the Bacons and other rivals in 2008 and 2009.
By then, the Vancouver native had fled, spending 11 years hiding out until his arrest in Puerto Rico on Feb. 25. He now sits in a San Juan jail awaiting an extradition hearing. On Thursday, a U.S. judge ordered D'Monte held for 90 days to give Canadian authorities time to file their formal extradition request for the now-44-year-old fugitive.