Vancouver Opera welcomes back Jonathan Darlington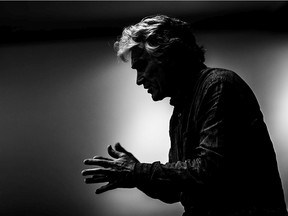 'Opera-in-concert has many virtues, starting with a chance to double down on the musical content of a score and really work with the singers and players,' says Vancouver Opera music director emeritus Jonathan Darlington. Photo by Annelies van Der Vegt
When: Feb. 12, 7:30 p.m., and Feb. 13, 2 p.m.
Where: Queen Elizabeth Theatre, 630 Hamilton St.
Tickets and info:Vancouveropera.ca
Vancouver Opera is poised to present its first live show of the new year, an opera-in-concert performance of Mascagni's 1890 opus Cavalleria rusticana, on Feb. 12 and 13 at the Queen Elizabeth Theatre.
Vancouver Opera is being understandably cautious about how this plays out and are taken prudent precautions — the house will be restricted to 50-per-cent capacity, with vaccination passports required. And given that Cav is in a single, substantial act, no break.
It was a pleasure to catch up with the maestro at his home in the south of France, on a weekend break from work in Oslo, Norway, taking place with strict protocols.
"You must be vaccinated, and take a COVID test every morning before you can get into the opera house," Darlington said of the pandemic protocols. "I'm working on two ballets, one choreographed to the Brahms violin concerto and the other an orchestral arrangement of a Gorecki string quartet"
Why Cavalleria rusticana for his return to Vancouver Opera? Darlington said it was Vancouver Opera general director Tom Wright's notion, but was quick to enumerate its virtues, which include a smallish cast and a lush, accessible score.