Vancouver theatre: Let's do the time warp, 'and have a great time'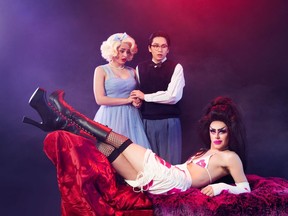 Zachary Bellward (right), as Frank-N-Furter, has the full attention of fellow actors Sofie Kane and Angus Yam in Langara College Studio 58's production of The Rocky Horror Show, running Feb. 3- 20. Photo by Emily Cooper
When: Feb. 3-20.
Where: Studio 58, Langara College, 100 W. 49th Ave., Vancouver.
Tickets: From $10 at studio58.ca
When Zachary Bellward saw The Rocky Horror Picture Show for the first time he thought, "That was lovely. I have absolutely no idea what I just watched."
Overseeing the Studio 58 production is Josh Epstein. "There's definitely a wink to RuPaul's Drag Race in the design of the production, but our designers have added their own flair," the director said in an email. Epstein also directed the company's highly successful take on Cabaret in early 2019.
"Our production highlights that people be accepted as they are: Fabulous, regardless of gender or sexuality or race or body type, and then we pack it with rude bits and innuendo. It embraces camp and transgressions, honours those who created the original call-backs and the three generations of queer people back in '75 that helped set up the world we now live in.
"Above all, though, we just want our audience to forget everything and have a great time. Isn't that what we all need right now?"