$20 a pop for Apple: CDRs open new avenue for Canadians to invest in U.S. stocks
Canadian Depository Receipts take some of the exchange-rate uncertainty out of U.S. stocks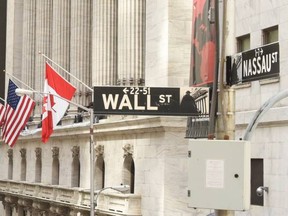 Tpt/Shutterstock
This article was created by MoneyWise. Postmedia and MoneyWise may earn an affiliate commission through links on this page.
Several hurdles await the Canadian investor hoping to get a piece of America's biggest companies.
In addition to the added cost associated with purchasing shares in giant U.S. firms — brokerage fees, currency conversion fees, exchange rates that rarely favour the loonie — the shares themselves can be exorbitantly expensive for the average investor.
Most investors would love to have some Amazon in their portfolios, for example, but when a single share costs more than C$4,000, buying the company's stock becomes a major financial decision. And the more cash you have tied up in a single company, the more risk your portfolio is exposed to.
But just because you don't have the capital on hand to buy as much Amazon or Tesla stock as you'd like, don't think America's blue chip behemoths are out of reach. There's a new, widening path you can take if you're determined to place a bet on large U.S. companies: Canadian Depository Receipts (CDRs).
Article content
Most CDRs initially sell in the $20 range and can be purchased the same way, and in most of the same places, you'd buy any other stock.
To date, CDRs have been launched for 18 U.S. companies:
Advanced Micro Devices
Alphabet (formerly Google)
Amazon
Apple
Berkshire Hathaway
Costco
IBM
JPMorgan
Mastercard
Microsoft
Meta (formerly Facebook)
Netflix
Paypal
Pfizer
Salesforce
Tesla
Visa
Walt Disney
An interesting quirk of CDRs is that the number of shares they represent varies from day to day. That's because of a mechanism known as a CDR ratio, which adjusts automatically in response to the value of the Canadian dollar. If the dollar strengthens against the U.S. greenback, a CDR will represent a larger number of underlying shares; if it weakens, the CDR will be worth a smaller number of shares.