3 'buying opportunities' from Goldman amid an extended stock market rout
Be greedy when others are fearful — like right now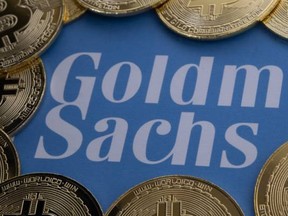 VDB Photos/Shutterstock
This article was created by MoneyWise. Postmedia and MoneyWise may earn an affiliate commission through links on this page.
Navigating through the current market environment isn't easy. The S&P 500 has already fallen about 10 per cent in 2022. The tech-heavy Nasdaq is down nearly 15 per cent.
With earnings season in full swing, things are almost certain to get more volatile. But that doesn't mean you should completely bail on stocks.
According to analysts at Goldman Sachs, you might even want to do the exact opposite if the market continues to slide — buy more.
"Any further significant weakness at the index level should be seen as a buying opportunity, in our view," said Goldman analyst Peter Oppenheimer in a note to investors earlier this week.
Investors' main concern right now is the U.S. Federal Reserve's changing stance on easy money. But Goldman Sachs points out that a rising interest rate environment doesn't necessarily lead to sell-offs.
Article content
The company earned US$20.3 billion in revenue in Q4, down 3 per cent year over year. Adjusted earnings surged 59 per cent year over year to 92 cents U.S. per share, easily topping Wall Street's expectation of 85 cents.
More importantly, management completed a US$25 billion debt tender transaction, effectively reducing its gross debt by US$87 billion over three years.
Goldman analyst Joe Ritchie forecasts a strong rebound for the shares due to GE's strengthening financial position.
"The bottom line is the narrative on GE has shifted (at least temporarily) from [free cash flow] to earnings as the company has effectively demonstrated its ability to de-lever faster than expected," he said.
On Jan. 26, Ritchie reiterated a buy rating on the company and set a price target of US$124, implying a potential upside of close to 40 per cent.