3 reasons to buy Netflix after its recent 30 per cent plunge
Buy when there's blood in the streets, especially when it comes to this streaming giant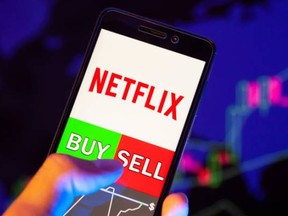 NPS_87/Shutterstock
This article was created by MoneyWise. Postmedia and MoneyWise may earn an affiliate commission through links on this page.
With the market's rough start to 2022, investors are reminded once again that stocks — even the best ones — don't always go up.
Case in point: Netflix was one of the top-performing S&P 500 stocks of the past decade, returning more than 5,700 per cent from 2012 to the end of 2021. But it's a completely different story this year.
The company reported Q4 earnings along with guidance last week, and Wall Street didn't like it one bit.
Netflix shares plunged nearly 22 per cent last Friday on subscriber growth concerns, chopping off US$49 billion from its market capitalization.
After a weekend to digest the news, investors continued to sell heavily. As of this writing, Netflix shares are down almost 30 per cent over the past five days.
Article content
With Netflix's global streaming paid memberships standing at 221.8 million, the company is still far and away from the dominant digital streamer.
And while the next couple of quarters will certainly be bumpy, long-term tailwinds remain squarely in Netflix's favour as consumers continue to cut their cable at a breakneck pace.
2. Pounce on the plunge
This isn't exactly the first time Netflix shares have crashed on disappointing subscriber growth.
In 2015, the company's subscriber guidance for Q4 came in well below expectations, sparking an eight per cent selloff the following day. And in the following year, its Q2 subscriber numbers triggered a 13 per cent crash in the shares.
For investors who ignored the noise and purchased Netflix on those two down-days, they are currently sitting on returns of 263 per cent and 327 per cent, respectively.