3 top-ranked dividend stocks for February yielding as high as 8.6%
Morgan Stanley really likes these companies with a track record of raising dividends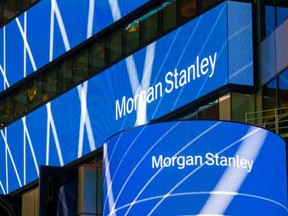 rblfmr/Shutterstock
This article was created by MoneyWise. Postmedia and MoneyWise may earn an affiliate commission through links on this page.
With high-flying growth stocks making all of the headlines, dividend stocks often get ignored.
But in a world of still-historically low-interest rates and the highest inflation in decades, a steady and increasing stream of dividends can help risk-averse investors sleep better at night.
You can jump on these dividend stocks even if you have just a little bit of savings, thanks to a new trading platform that lets you invest with nothing more than your spare change .
Healthy dividend stocks have the potential to:
Let's take a look at three dividend stocks that Wall Street giant Morgan Stanley has given an overweight rating to.
Article content
Morgan Stanley recently reiterated an overweight rating on Microsoft and raised the price target on the stock to US$364, about 17 per cent worth of upside from current levels.
Microsoft currently trades at around US$330 per share. But you can own a piece of the company using a popular stock trading app that allows you to buy fractions of shares with as much money as you are willing to spend.
Procter & Gamble (PG)
Procter & Gamble belongs to a group of companies often referred to as the Dividend Kings: publicly traded businesses with at least 50 consecutive years of dividend increases.
In fact, P&G makes the list with ease.
In April, the board of directors announced a 10 per cent increase to the quarterly payout, marking the company's 65th consecutive annual dividend hike.