A clue for contrarian investors: This beaten-down sector is still delivering rapid growth
As Warren Buffett says, be greedy when others are fearful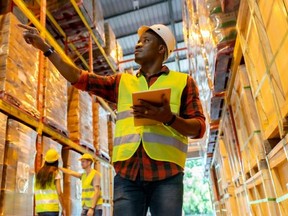 vichie81/Shutterstock
This article was created by MoneyWise. Postmedia and MoneyWise may earn an affiliate commission through links on this page.
It's not easy to be bullish these days.
The S&P 500 is down 9.8 per cent year to date. The Nasdaq has tumbled 14 per cent. Planned interest rate hikes continue to weigh on stocks. Russia's invasion of Ukraine isn't making investor sentiment any brighter.
But none of that means you have to stand on the sidelines. As Warren Buffett says, "Be fearful when others are greedy, and greedy when others are fearful."
If you're looking for a sector that could make a strong comeback, a clue lies in the latest report from the U.S. Commerce Department.
Article content
Over the past 12 months, the Amplify Online Retail ETF (IBUY) plunged 49.4 per cent. The fund tracks the EQM Online Retail Index, which consists of a diverse basket of companies that earn at least 70 per cent of their revenue from online sales.
To put things in perspective, the S&P 500 returned a positive 11.9 per cent during the same period.
While some investors are taking a step away from high-growth stocks, now could be an opportune time for contrarian investors to take a second look at this particular sector.
Even if you aren't willing to put your bottom dollar on a bet like that, it might be worth it to invest your spare change through a no-fee trading platform.
The momentum continues
E-commerce was already a fast-growing industry, and the COVID-19 pandemic only added fuel to the fire. Some stores had to shut their doors for months at the onset of the pandemic, meaning customers had no choice but to go to online vendors.