Barry Choi: How many credit cards should you have?
The number of credit cards you carry should depend on your financial goals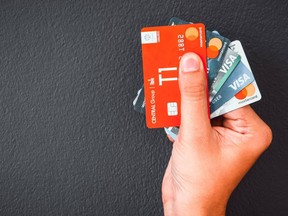 iamtui7/Shutterstock
When used responsibly, credit cards can be a great tool to help you manage your finances. But how many credit cards should you have? For some people, one is enough, while others may be comfortable with a handful or even more.
How you manage your credit cards is up to you, but the number of cards you should carry depends on your personal situation and your intentions.
Many people don't like the idea of applying for multiple credit cards because it could affect your credit score. Whenever you apply for a new card, your credit score will take a hit of five to 10 points.
Even though having multiple credit cards is okay, you should spread out your applications, so your credit score has time to recover from any hits.
Article content
As a general rule, having at least two credit cards is ideal. Designate one as your primary card and the other as your backup card.
Ideally, you want your backup card from a different credit card network. For example, if your primary credit card is an American Express, having a Visa or Mastercard as your secondary card is ideal. Some people will even get one from all three, so they're covered if a retailer only accepts one type of card.
Maximize your rewards
For many people, the case for having multiple credit cards comes down to maximizing the rewards you can earn. Many credit cards offer an increased earn rate on specific categories such as groceries, gas, streaming services, and travel. However, no single credit card gives you a high earn rate for every category. That's why some people prefer to have multiple credit cards.