Barry Choi: Why paying with cash instead of credit can still make sense
In this age of going cashless, cash itself could help you save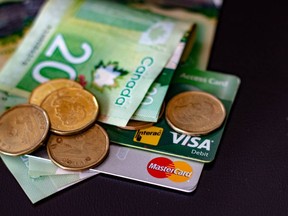 mynewturtle/Shutterstock
Over the years, going cashless has become a popular trend. Because credit cards are convenient and offer rewards, paying with plastic instead of cash makes sense to many people. Plus, at the start of the pandemic, some merchants weren't accepting cash at all, so using your cards was the only way to pay.
While there's no denying the convenience of credit cards and digital wallets, using them can sometimes lead to unintended consequences. For example, research has shown that people tend to spend more when paying with cards instead of cash.
That's not to say that you should avoid your credit cards at all costs. They have their place, and they can be a valuable tool to help you manage your finances. Here are some things to consider when deciding whether cash or plastic is the right choice.
With cash and debit cards, you can only spend what you have in your wallet or bank account. If you're trying to balance your budget, you may find cash more manageable as you can physically see the money leaving.
Article content
With cash, you're not getting any additional protection. You would need to handle any disputes on your own. Plus, if you lose your wallet, it's unlikely that you'll get your cash back, whereas a lost or stolen credit card can be quickly replaced.
Earning rewards, with credit or cash cards
Credit cards are popular in part because you can earn cash back or travel rewards. The rewards you earn are typically worth 0.5 per cent to five per cent of your purchases. That said, if you're collecting travel rewards, the value could be even higher depending on how you redeem your points.
In addition, many credit cards offer generous welcome bonuses. These offers can be worth hundreds of dollars, but you need to spend a minimum amount by a set date. While this incentive is clearly worth it, you run the risk of spending more than usual just to get it.