Can tiny homes be a solution to Canada's housing shortage?
Tiny houses have become more popular, but there are plenty of challenges to building them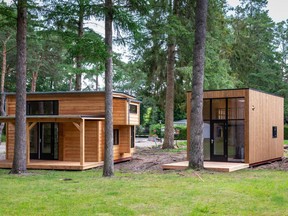 Tiny houses under construction in Beekbergen, Netherlands, June 21, 2019. (Intreegue/Shutterstock)
With housing prices continuing to climb and supply plummeting, finding your dream home is getting harder and harder.
So what if, instead of dreaming big, prospective homeowners set their sights on something smaller?
Tiny homes, generally anywhere between 100 and 400 square feet in area, have become a trend in recent years, inspiring no fewer than three HGTV shows.
Backers of the tiny house movement point out their homes have smaller carbon footprints and are a more environmentally sustainable way of life, one that could help combat urban sprawl.
But as to whether they're a feasible answer to Canada's housing shortage, Phil Soper, president of Royal LePage in Toronto, says yes — but only "in a modest way."
Article content
Take the Tiny Footprint Homes business in southwestern Ontario, for example. Two friends, Paul Arts and Josh Batkin, decided to start manufacturing tiny homes because they noticed a lack of affordable housing in their area.
Despite their building experience, it still wasn't an easy endeavour, the Rural Voice reported.
Ontario has health and safety building codes that have a minimum square footage for each room in a home, and the two are also working to ensure their builds are Canadian Standards Association (CSA) compliant. Each step the entrepreneurs take needs to be approved by inspectors.
And that's well outside of city limits, where competing with developers and getting municipal approval can be a bigger challenge for builders.