Canada and India agree to relaunch trade talks, as democratic nations seek to strengthen ties to counter China, Russia
'I think what is really important is the resilience of the post-pandemic supply chain and trade is a proxy for democratic values,' Trade Minister Mary Ng said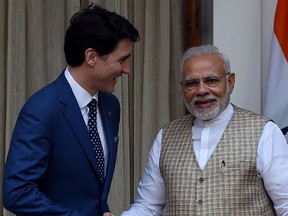 Prime Minister Justin Trudeau and Prime Minister Narendra Modi shake hands before a meeting at Hyderabad house in New Delhi in Feb. 23. Photo by MONEY SHARMA /AFP/Getty Images
Trade Minister Mary Ng landed in India on March 11 and is leaving her two-day trip with a win: the relaunch of trade negotiations with the world's sixth-largest economy.
Canada and India are often described as natural trading partners, but a relationship that looks good on paper hasn't translated into a progress at the negotiating table. Canada and India first began trade talks in 2010 under former prime minister Stephen Harper, but after 10 rounds of talks over seven years failed to produce a breakthrough, the effort lost momentum. The two sides haven't held formal discussions since August 2017.
The world has changed since then. The reboot comes amid heightened concern among democratic powers such as the United States and Germany about China's influence over the global supply of everything from the rare minerals needed to build electric-vehicle batteries to the consumers goods sold at Walmart Inc.'s stores. Russia's invasion of Ukraine this month only added to the urgency for like-minded nations to strengthen ties.
Article content
India has a reputation as being a difficult negotiating partner, and while Prime Minster Narendra Modi has happily accepted international investment since coming to power in 2014, he has been less keen to lower barriers that might open domestic producers to import competition.
Still, India's rivalry with China might be causing Modi to reconsider his approach to trade. Soldiers from the two countries have engaged in fatal skirmishes along a disputed border in the Himalayas in recent years, and China is backer of Pakistan, which India's leaders view as an existential threat. In May 2021, Modi's government agreed to kickstart trade negotiations with the European Union, reviving talks that had been stalled for eight years.