'Canada matters in all of this:' CIBC's Victor Dodig sees crisis as chance for us to reset ties with U.S.
Alliances are back in vogue and protectionism set aside in Ukraine war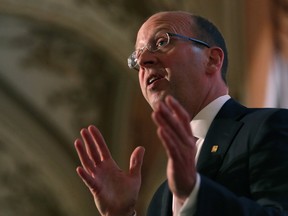 Victor Dodig, chief executive of Canadian Imperial Bank of Commerce, sees it's important Canada is seen as a construction partner in the crisis now gripping the world. Photo by Fred Chartrand /THE CANADIAN PRESS
The leaders of Canada's biggest corporations tend to address the masses through anodyne commentaries in legacy newspapers or panel discussions overseen by friendly moderators.
Kudos, then, to Victor Dodig, chief executive of Canadian Imperial Bank of Commerce and the new chair of the Business Council of Canada, for doing a Zoom call with a couple of journalists during his trip to Washington, D.C., this week.
His willingness to come out from behind the curtain probably says something about the extent to which the war in Ukraine has raised the stakes. Canada has been presented with an opportunity to recapture some of its former glory, and we'll all be richer if the political and business classes figure out a way to seize it.
"There's an overwhelming consensus that Canada matters in all of this," Dodig said on the call, which included Goldy Hyder, president of the Business Council, and journalists from the Financial Post and Toronto Star. "The more that we can advocate policy and action, from a public-sector standpoint as well as from a private-sector standpoint, we will have a much better outcome for our own economy as well as for the North American economy."
Article content
That's important. Mary Ng, Canada's trade minister, has had some breakthroughs in Asia over the past few months, but no one thinks the Pacific Rim will ever become more important than the 49th parallel. That's why the Biden administration's comfort with Donald Trump's approach to trade was so troubling. Few of the trade fights Trump started have been settled, even though a friendlier administration has been in place for more than a year. It speaks to how little influence Canada had in Washington at the start of the year.
Dodig and the business lobby see the war as a chance to reset. The political narrative in Washington is changing. Alliances are back in vogue, as Biden has opted to work with like-minded countries to confront Russia, rather than do it himself. In Congress and state houses, politicians are seized with the price of food and energy, and, to some extent, the pandemic. Canada (and Mexico) can help with those things. North America hasn't looked this good since George W. Bush's administration decided to expand the Canada-United States Free Trade Agreement to include Mexico in the early 1990s.