Canada plans to boost oil exports five per cent to ease energy supply crisis
Enbridge, North America's largest pipeline company, confirms it has been in talks with governments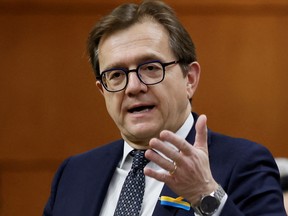 Canada's Minister of Natural Resources Jonathan Wilkinson. Photo by REUTERS/Blair Gable/File Photo
Natural Resources Minister Jonathan Wilkinson says his government has assured European allies that Canadian energy producers will be able to boost crude oil exports by around five per cent this year to help ease tight oil markets rocked by Russia's invasion of Ukraine — but the increase won't come at the expense of Canada's climate goals.
Wilkinson made the announcement March 24 following a second day of meetings at the International Energy Agency's (IEA) annual ministerial gathering in Paris. He said Canadian industry has the pipeline and production capacity to incrementally increase oil and gas exports this year by 300,000 barrels per day (bpd) — comprising 200,000 bpd of oil and 100,000 barrels of oil equivalent per day in natural gas.
"Canada wants to help our European friends and allies at a time of crisis," Wilkinson said. "But of course we are looking to be sensitive to, and consistent with, the commitments we've made with respect to climate change. Climate change is not going away. It is an existential threat to the world."
Added Wilkinson: "We can be part of actually helping them in the short term and we can be part of actually helping them to accelerate the transition to a green future where we all want and need to go."
Article content
Prime Minister Justin Trudeau said March 23 that a joint Canada-EU working group will be struck to increase co-operation between governments on energy security and the transition to net-zero. Wilkinson elaborated, saying that one of the key issues that will be discussed is the potential for Europe to import Canadian LNG or low-carbon hydrogen in the future.
Canada also announced that it will provide $8 million for the IEA's Clean Energy Transition Programme, to help emerging economies develop clean energy.
Discussions between governments and industry about the security of energy supplies have ramped up in recent weeks as Moscow has faced crippling economic sanctions and global importers have come under increasing pressure to stop trading in Russian oil and gas. The IEA said Wednesday that oil markets could lose three million barrels per day (bpd) of Russian crude and refined products from April.