Canada, U.K. begin trade talks as both seek to lessen dependence on bigger neighbours
'There's a lot of risk there, so trade diversification is something we need to take seriously'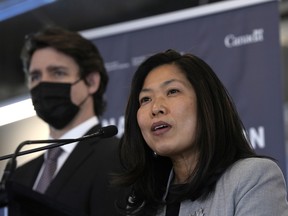 Minister of Economic Development Mary Ng speaks as Prime Minister Justin Trudeau listens at Bayview Yards in Ottawa. Photo by THE CANADIAN PRESS/Justin Tang files
Canada and the United Kingdom launched formal negotiations on a free-trade agreement, and pledged a relatively swift conclusion, as both countries accelerate efforts to reduce their economic dependence on larger neighbours.
Trade Minister Mary Ng and her British counterpart, Anne-Marie Trevelyan, won't be starting from scratch. In 2020, their two countries worked out an intermediate arrangement to avoid disruption during Britain's exit from the European Union — and, in the process, the Canada-EU Comprehensive and Economic Trade Agreement.
"Our government has made it a priority to focus on a progressive trade agenda that is inclusive and sustainable; an agenda that advances high standards for the environment and for labour; and one that helps our businesses thrive into the future by benefitting from digital trade," Ng said at a press conference on March 24.
Trade diversification is a priority for Canadian Prime Minister Justin Trudeau and his British counterpart, Boris Johnson, who boasts of leading a "global Britain" now that his country is unshackled from the EU. The U.K. is seeking to join Canada in the Japan-led Trans-Pacific Partnership, and recently started negotiations with India.
Article content
"There's a lot of risk there, so trade diversification is something we need to take seriously," said Taylor, who now works as a trade consultant. "Minister Ng, to be fair, she's got a bit of wind in her sails now."
Ng and Trevelyan said they will strive to conclude negotiations within two years. That shouldn't be too difficult, since talks between two long-time trading partners represents "low-hanging fruit," said Carlo Dade, director of trade and investment at Canada West Foundation, a think-tank.
"This is kind of expected, so you're not getting bonus points for doing that's expected," said Dade.
There will be sensitivities and irritants, especially surrounding dairy, Dade said. U.K. cheese exporters want more access to the Canadian market, which the federal government and lobbyists voraciously protect. Still, it will be an easy deal for these two trading partners, he said.
• Email: [email protected] | Twitter: biancabharti