Canadian firm Draganfly's drones tapped for Ukraine search-and-rescue, medical missions
Using the drones would mean humanitarian workers wouldn't have to put themselves at risk by searching every damaged and unstable building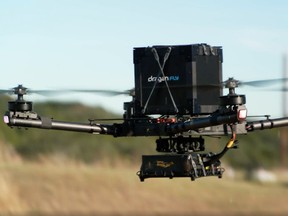 A Draganfly medical response drone takes off to deliver medical supplies.  Photo by Draganfly Inc.
A Canadian drone manufacturer's aircraft will soon be searching for wounded civilians and ferrying medical supplies in hard-hit areas of Ukraine after receiving an order from a humanitarian group.
Saskatoon-based Draganfly Inc. announced this week that it would be deploying its medical response and search-and-rescue drone models to Revived Soldiers Ukraine (RSU), a non-profit humanitarian organization providing aid to Ukrainians following the Russian invasion.
The order would see Draganfly immediately send over ten North American-manufactured drones as well as three additional donated drones, which will be controlled by RSU pilots. Draganfly expects the order to eventually total about 200 aircraft, which will be sent to the RSU headquarters in Kyiv and other areas where drone support is needed.
Since announcing the order, the company has received numerous requests from people looking to donate drones themselves, Draganfly co-founder and chief executive officer Cameron Chell told the Financial Post in an interview.
Article content
"One of the most heartbreaking stories are requests for more insulin — particularly for children who are diabetic," Chell said, adding that using trucks to deliver the supplies can be dangerous if not impossible. "But if you can do that with a drone, your potential effectiveness is much, much higher to get into that area and to get (the insulin) exactly where it's needed."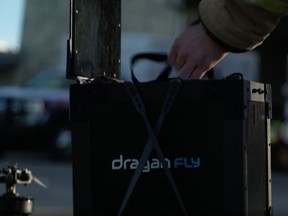 Draganfly's drones have been on life-saving missions before. In 2013, the Saskatoon-manufactured Draganflyer X4-ES was credited as the first public-service drone to save a human life when it located a lost Canadian who ventured out into freezing temperatures following a car accident in the middle of the night, according to Smithsonian Magazine.