Canadian housing starts rise 8%, beating expectations
Growth largely drive by multi-unit developments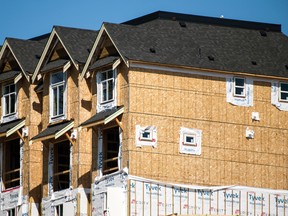 Homes under construction in British Columbia. Housing starts rose eight per cent in February from the month before. Photo by James MacDonald/Bloomberg
Canada's housing supply shortage received some relief in February as the country's housing starts rose in February.
Standalone housing starts in February came out to 247,256 units, up eight per cent from 229,185 units in January and beating analyst expectations, according to data from the Canada Mortgage and Housing Corporation.
Urban housing starts rose by 10 per cent to 222,563 units last month, largely driven by 13 per cent growth in the multi-unit segment to 161,912 units.
Article content
Dugan told the Financial Post that while the housing starts were strong, Canada is still falling behind other G7 countries when it comes to housing stock per capita.
"I would argue that the strong level of housing starts we're seeing aren't strong enough and they have to continue (to grow) if we're going to chip away at that gap that exists between our housing stock and that of some other countries," Dugan said, adding that there will be renewed demand from new family formation and immigrants arriving into Canada. "We need to catch up in order to restore housing affordability."