CIBC chief fires back as Liberals' deal with NDP puts bank tax back on the table
3% surtax on profits over $1 billion would cost big banks and insurers millions a year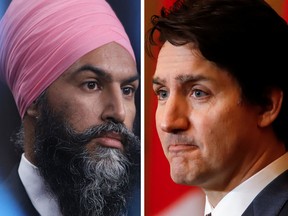 NDP Leader Jagmeet Singh, left, and Prime Minister Justin Trudeau have reached a deal to keep the Liberals in power until 2025. Photo by Getty Images/Reuters
A political deal that will see the New Democratic Party prop up the minority Liberals is bringing a proposed surtax on bank profits back into focus, a policy recommendation that is not sitting well with the head of one of Canada's biggest lenders.
Victor Dodig, chief executive of Canadian Imperial Bank of Commerce, characterized a tax on the finance industry's profits during the pandemic as discriminatory, and said Prime Minister Justin Trudeau risks hurting investment if he goes through with it.
"You send out negative signals to investors when you start picking on industries," Dodig said during a call with reporters on March 22, when asked to respond to the inclusion of a bank tax in the agreement that will keep the Liberals in power through 2025.
"Capital will come into Canada, jobs will get created in Canada, when the economic conditions are better in our country, and the regulatory framework and the tax-policy framework, are better in our country than in other countries," Dodig said.
Article content
"People are struggling to keep up with the rising cost of groceries, gas and housing," Singh said in a Monday press release. "Meanwhile, big banks, big box stores and big oil companies are making record profits off the backs of Canadians worried about making rent at end of the month or putting food on the table."
"We're asking the government to keep their promise to put a tax on the excess profits of huge corporations and to reinvest it to help make life more affordable for you and your family."
People are struggling to keep up with the rising cost of groceries, gas and housing

Jagmeet Singh
Nigel D'Souza, an investment analyst at Veritas Research, told the Financial Post he does not expect a material impact to the banking sector, but remains concerned that it could open the door for more aggressive tax policies down the line.