Commuting her pension could let this Ottawa civil servant have her cake and eat it, too. But is it worth the risk?
This dish is costly: annuities sold by profit-seeking insurance companies are not cheap, expert says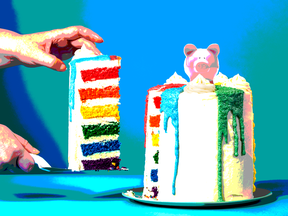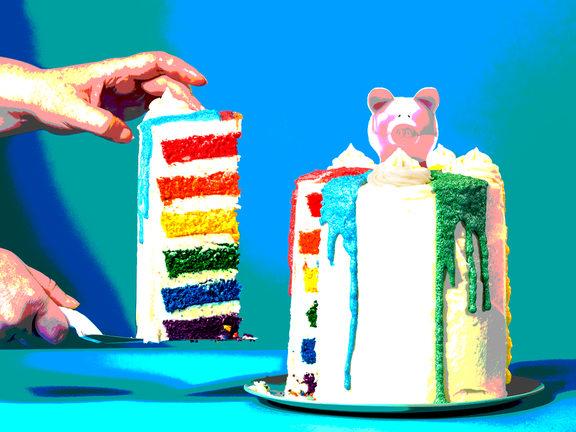 Lucille wants to retire next year, at age 49, and she is considering taking the commuted value of her pension. Photo by Gigi Suhanic/National Post illustration
In Ottawa, a woman we'll call Lucille, 48, works for the federal government. She has three children, all in their teens with adequate RESPs, a house worth $800,000, three rentals with an estimated total value of $1,825,000 and $570,000 of debt for the rentals.
Lucille wants to retire next year, at age 49, and she is considering taking the commuted value of her pension. That is the amount of money needed to generate expected pension income, which would be $48,000 per year at age 55, the earliest year she can start receiving income. With interest rates still low, it takes a lot of money to generate promised pension income. Thus it is a good time to be thinking over whether to cash out and take the commuted value. Lucille earns $116,000 per year and has $49,217 net rental income. After her average tax rate, 36.39 per cent, reflecting $60,043 tax, she has $105,174 income per year or $8,765 per month.
Article content
Family Finance asked Derek Moran, head of Smarter Financial Planning Ltd. in Kelowna, B.C., to work with Lucille.

Comparing pensions
Lucille has achieved a low double-digit return on her savings and is an impressive investor.  However, beating a fully indexed federal pension is not just about returns. A defined-benefit pension is ageless. The beneficiary cannot outlive it. It is bulletproof in the sense that it is diversified far beyond what an individual can achieve and guaranteed not to lose value to any level of inflation. The downside is that the capital in any DB pension does not belong to the beneficiary. It belongs to the Government of Canada in this case.
The difference between leaving the DB pension and taking the money is whether she needs the potentially higher return she might earn on the commuted value, with the understanding that the return could be lower as well. The essence of the difference between a government DB pension and a private investment is certainty.  No stock market flop can depreciate the Government of Canada Public Service pension plan.