CP Rail will lock out 3,000 conductors and engineers if they don't have a deal with the union by Sunday
Canadian business and agricultural leaders warn a railway work stoppage would be 'catastrophic'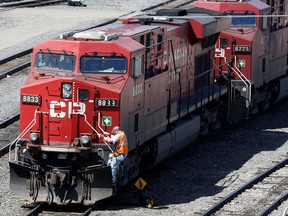 CP Rail and Teamsters Canada have been negotiating a new collective agreement since September, and earlier this month, union members voted to authorize a strike if necessary. Photo by REUTERS/Todd Korol/File Photo
Canadian Pacific Railway Ltd. will lock out 3,000 conductors and locomotive engineers if union officials won't make a deal by this Sunday, March 20, the company said.
CP and Teamsters Canada have been negotiating a new collective agreement since September, and earlier this month union members voted to authorize a strike if necessary. While a strike was possible as of March 16, the union hadn't yet opted for one. CP said it decided on a lockout to avoid dragging out the situation indefinitely.
"Delaying resolution would only make things worse," CP chief executive Keith Creel said in a news release. "We take this action with a view to bringing this uncertainty to an end."
Canadian business and agricultural leaders have been warning that a work stoppage at the railway would be "catastrophic" for the flow of goods across the country, at a time when supply chain disruptions have already driven up food costs to a level not seen in almost 13 years. This growing season, Canadian grain farmers are under more pressure than usual to produce a good crop, since Russia's invasion of Ukraine has destabilized farming operations in one of the world's most important grain-growing regions.
Article content
CP is giving TCRC until 12:01 a.m. on March 20 to either come to a negotiated settlement or agree to binding arbitration before a lockout.
"The Canadian economy could avoid all the pain and damage of a work stoppage if the TCRC would agree to binding arbitration," Creel said.
The Western Grain Elevator Association, which represents major grain companies including Cargill Ltd. and Viterra Canada Inc., said both CP and the union need to realize a work stoppage would have "serious consequences" for Canada's agricultural sector, which is already reeling after last summer's drought dramatically reduced crop yields. The grain companies with operations on a CP rail lines are "beholden to a monopoly service provider and do not have any competitive options in shipping grain to flour mills, grain processing facilities and feedlots both domestically and internationally," the association said.
"The world needs Canada's grain now more than ever, and it is unconscionable that anyone would leverage the current domestic and global circumstances to benefit their individual interests," WGEA executive director Wade Sobkowich said on March 15.
• Email: [email protected] | Twitter: CarmichaelKevin