CP to restart operations after railway and union agree to binding arbitration
The shutdown across Canada's second-largest railway will end mid-day today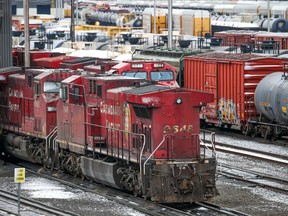 CP Rail trains are seen at the company's Calgary Alyth Yards on Sunday, when operations were halted because of the labour dispute. Photo by Gavin Young/Postmedia
The shutdown across Canada's second-largest railway will end mid-day Tuesday after Canadian Pacific Railway Ltd. and its union reached an agreement overnight.
CP and Teamsters Canada said they will resolve the labour dispute through binding arbitration, which means an arbitrator will produce a final decision on the collective agreement that both sides will be forced to accept.
The deal allows for roughly 3,000 conductors, locomotive engineers and train and yard workers to return to their jobs as of noon Tuesday, ending a two-day disruption that halted traffic across CP's rail network in Canada and the United States.
Teamsters Canada Rail Conference, which represents the 3,000 CP workers, said it did not make the decision "lightly."
"While arbitration is not the preferred method, we were able to negotiate terms and conditions that were in the best interest of our members," Teamsters spokesperson Dave Fulton said in a news release at around 2 a.m. EST on Tuesday, adding that "wages and pensions remain stumbling blocks" in the negotiations.
Article content
But federal Labour Minister Seamus O'Regan, who has been in Calgary through the shutdown, resisted calls to step in, arguing that "you've got to be extremely careful" about intervening in bargaining.
"When you deem it an essential service, legally, legislatively, you are depriving the workers in that industry of their rights," he said in an interview on Tuesday. "I'm not one to flippantly do that."
On Tuesday evening, hours before the deal was struck, O'Regan vowed to stay in Calgary "until they've got a Goddamn deal."
In talks between CP, Teamsters and federal mediators, the main issues were reportedly compensation and rules around work schedules. Earlier this month, Teamsters members voted to authorize a strike, if necessary, any time after March 16. When that deadline arrived, the union didn't opt to strike immediately. Instead, CP gave notice of its intentions to lock out employees within 72 hours, arguing that it did not want to drag out the process because the threat of a strike had caused too much uncertainty across the economy.
CP gave a deadline of 12:01 p.m. on March 20. But negotiators couldn't reach a deal in time.
Teamsters put out a release about 15 minutes before the deadline, blaming CP for locking out the union and putting the Canadian supply chain at risk. But CP accused TCRC of "withdrawing services" — which essentially means workers stopped working — before the midnight deadline.
• Email: [email protected]om | Twitter: jakeedmiston