Earning visibility is one of the biggest challenges that modern businesses undertake
Learning effective digital marketing has become a necessity for successful businesses today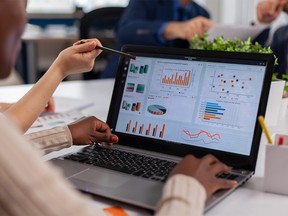 Photo by StackCommerce
This article was created by StackCommerce. Postmedia may earn an affiliate commission from purchases made through our links on this page.
How many businesses are online? It seems like an almost impossible number to quantify, but EtailInsights does it here, saying there are 9.1 million online retailers around the world. That's a lot of competition for every one of those business owners. The internet is a crowded landscape, and sure, you can funnel your competition down to your specific industry or region depending on what you're offering, but the challenges remain the same.
Article content
However, from free YouTube tutorials to pay-to-read articles on Forbes and other big publications, where should one start when trying to gain a foothold and upward trajectory in the digital marketing world? As with choosing any source of education, you need confidence that the information you're learning is accurate and relevant to your business's needs. Your instructors should have digital marketing experience and the accolades to prove it, and positive ratings from fellow students don't hurt.
Here's an example of a good one! 
The 2022 All-in-One Digital Marketing Certification Bundle is on sale for just $43.99 for a limited time. It contains 8 courses with over 660 lessons on topics that digital businesses need to stay competitive. Courses are rated as high as 5 stars and are led by instructors like Sam B.A., a wide-selling Audible and Kindle author who shares his knowledge to teach a new generation of entrepreneurs how to grow and monetize their Telegram channels.
The skills you'll learn include content strategy, Instagram marketing, Facebook advertising and copywriting. Applying this knowledge to your small, online business can help you generate traffic from social channels and keep them engaged once they're interacting with you.
Prices subject to change.