Federal study details workers whose extra earnings get dinged most by tax system
Single parents, lower-income households and recent immigrants likely to lose more for extra earnings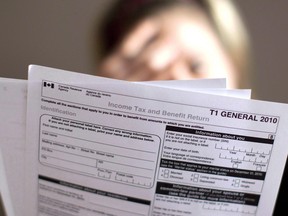 Women were more likely than men to lose out on 60 per cent or more of their extra earnings. Photo by THE CANADIAN PRESS/Chris Young files
OTTAWA — A new study from the Finance Department suggests that single parents, lower-income households and recent immigrants are more likely to lose more for extra earnings than most other groups of workers.
Also more likely to lose out from extra earnings through working more hours or getting a higher-paying job were workers who live in Quebec, and those between the ages of 35 and 44.
In some instances, the federal analysis found that those groups of workers were more likely to see 50 per cent or more of their earnings offset by higher taxes, a clawback in benefits, or a combination of the two.
Women were more likely than men to lose out on 60 per cent or more of their extra earnings, which the recently released analysis chalks up to their slightly greater reliance on federal supports.
Katherine Scott, a senior economist with the Canadian Centre for Policy Alternatives, says the study lends credence to calls from anti-poverty advocates and businesses for a broad review of the tax system.
Article content
The study said the proportion of low-income workers who lost out on 50 per cent or more of their extra earnings was double the proportion of workers in the country's top income bracket.
Not being much better off or faring financially worse after a boost in earnings could make workers think twice about taking on more hours or could lead others to stay out of the job market altogether.
A large share of the population facing the possibility of losing half or more of their extra earnings could also be "an impediment to the success of policies aimed at increasing labour supply," the Finance Department wrote in the study.