Fed's hawkishness casts doubt on Bank of Canada's soft landing
The United States Federal Reserve's efforts to step up its fight against inflation will cast doubt on the Bank of Canada's ability to limit its own interest rate hikes.
At a decision Wednesday, chairman Jerome Powell signalled Fed officials are poised to increase borrowing costs by more than expected, and are willing to tolerate much slower growth in the process.
Article content
That's even as the Canadian economy is projected to expand at a faster pace than the U.S. According to Bloomberg surveys of economists taken before the Fed decision, growth is expected to average 2.1 per cent in Canada between 2022 and 2024, versus 1.4 per cent in the U.S.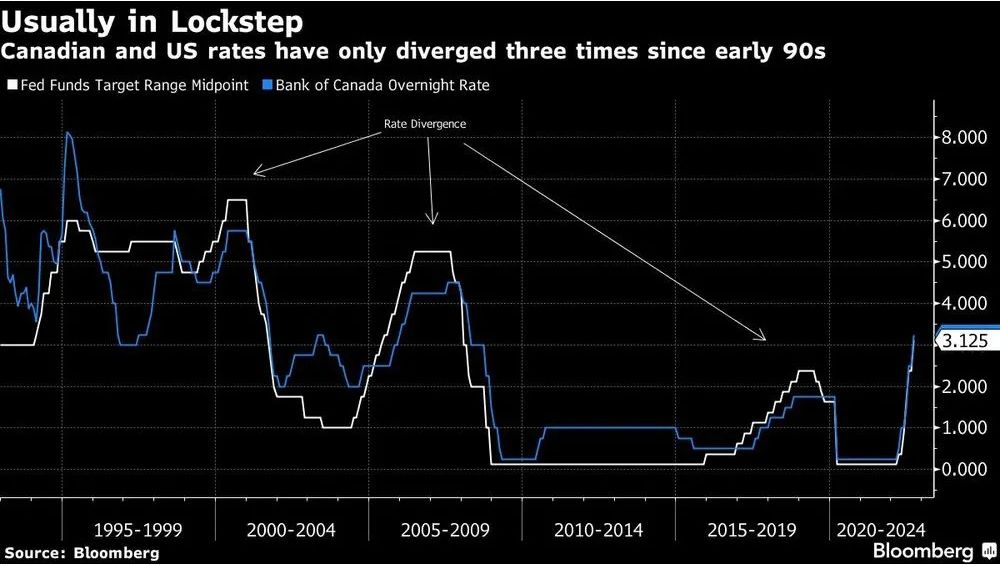 "The market has the relative Fed versus Bank of Canada narrative upside down," Derek Holt, an economist at Bank of Nova Scotia, said by email Thursday.
Historically, when Bank of Canada rates have fallen below those at the Fed, it's typically not coincided with a relatively stronger Canadian growth picture. That suggest markets may be underestimating how high Macklem will have to go, or overestimating Canada's capacity to grow.
To be sure, higher commodity prices are giving Canadian incomes a stronger tailwind, which helps explain the growth outperformance but not why interest rates need to be lower in Canada. New government spending aimed at helping Canadians cope with the higher cost of living is adding to inflationary pressures. Higher U.S. rates, meanwhile, are putting downward pressure on the Canadian dollar and stoking import prices further.