Forget Meta, here's the one metaverse play that's hiding in plain sight
A company that isn't betting it all on the metaverse is perfect for risk-averse investors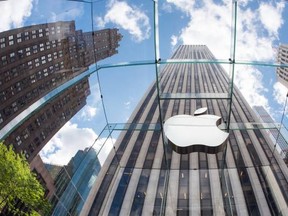 Pio3/Shutterstock
This article was created by MoneyWise. Postmedia and MoneyWise may earn an affiliate commission through links on this page.
Everyone's talking about the metaverse — an immersive world where people gather virtually.
Investors, in particular, are showing a growing interest in metaverse stocks, fueled largely by Facebook's name change to Meta Platforms last October.
There are many names to choose from. Other than Meta, Wall Street touts companies like Unity Software, Nvidia and Roblox as top metaverse plays.
Even before the term "metaverse" started making headlines, several of these businesses had already come out with technologies incorporated into the metaverse, such as augmented reality and virtual reality headsets.
But being early doesn't guarantee anything.
There's one overlooked giant that hasn't released a single AR/VR product, but that could end up being a big winner in the space: Apple.
Article content
"We think investors continue to underappreciate AAPL's potential to innovate and enter new markets where they can leverage and scale AAPL's unique platform and vertical integration capabilities," wrote Evercore analyst Amit Daryanani earlier this month.
Daryanani expects Apple's headset to cost a premium price of US$750 or more. If adoption reaches the same level as the Apple Watch, the product "could contribute US$18.1B to sales and 19c EPS at scale (~4-5 per cent of current estimates)."
If the product turns out to be as popular as AirPods, Evercore says it could boost Apple's revenue by US$38 billion and EPS by 41 cents.
Evercore is maintaining an Outperform rating on the company and recently raised its price target to US$210. With Apple shares currently trading at roughly $160 apiece, that represents upside potential of over 30 per cent.