Former Unifor leader Jerry Dias accused of taking payment for promoting COVID test kits
Dias says he is checking into a rehabilitation centre on doctor's orders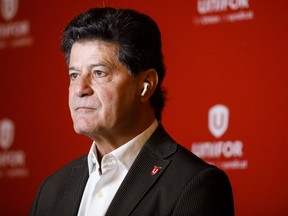 Former Unifor National President Jerry Dias announced today that he is entering a rehabilitation facility. Photo by Cole Burston/Bloomberg
Canada's largest private-sector union has accused former national president Jerry Dias of accepting money from a COVID-19 rapid test supplier in return for promoting the kits to employers.
The union investigation, conducted by an independent external investigator, alleges that Dias violated its code of ethics by taking $50,000 from a maker of the tests.
The union said Dias was asked to participate in the probe, but the findings were made without his input. A hearing will now be held before the National Executive Board.
Dias went on medical leave in early February and earlier this month, retired as leader of Unifor the day before the union announced that he had been under investigation since late January for "an alleged breach of the Unifor constitution."
In a statement to Unifor members shortly before the union's press conference Wednesday, Dias said he is entering a rehabilitation facility, and under doctor's advice will be unable to participate in the hearing addressing the complaint against him.
Article content
Dias did not directly address the accusation but said during his term as president, "I was always guided by the principles set out in our constitution."
The former union leader, 64, was elected president in 2013 at the union's founding convention, and went on to serve three back-to-back terms. Unifor now represents over 315,000 Canadian workers.
Dias advocated on behalf of Canada during the renegotiation of the North American Free Trade Agreement under U.S. President Donald Trump. In 2020, when Ford Motor Co.'s only vehicle assembly plant was slated to close, Dias surprised many observers by leading a successful effort to keep it open.
In December 2021, Dias was selected by Ontario Premier Doug Ford to run the Council of U.S. Trade and Industry Competitiveness, a task force aimed at propping up the Canadian auto industry in the wake of American protectionist measures.
Dias has been named one of Canada's 50 most powerful people by Maclean's, and Canada's most influential union leader by Ottawa Life magazine.
Financial Post's Toronto-based employees are represented by Unifor.