Francis Bradley: The clock is ticking on Canada's electricity grid
In spite of the evident urgency, talk has yet to lead to actual action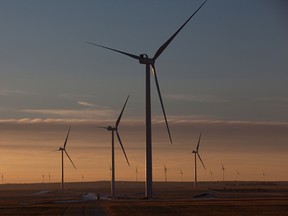 The Blackspring Ridge wind project in Western Canada. Photo by Supplied/Calgary Herald
We've seen this scenario dozens of times in movies and on TV: a countdown clock ticking down the minutes and seconds to a dramatic moment. For Canada's electricity providers, a countdown is ticking down. It's 5,024 days until the federal government has pledged to make Canada's grid completely green. Tomorrow it will be 5,023 days. That may seem like a big number, but it's not.
And yet, if the government doesn't give electricity providers clear direction and leadership soon, it won't matter how many days are left. That goal will be unattainable.
On Tuesday, the prime minister announced the release of an ambitious emissions reduction plan outlining its commitment to "Net Zero by 2050." Under net-zero, Canada will stop its reliance on fossil fuels by mid-century. However, by the government's own estimation, to do so Canada will need two to three times the amount of electricity it produces now in order to decarbonize other sectors of the economy. To do this, the government wants the electricity sector to be net-zero by the end of 2035. That's 13 years, or 5,024 days, to build the systems required to eliminate greenhouse gas emissions from our sector, all while adding capacity to the electrical grid.
Article content
To meet a 2035 deadline, we need clear, consistent policy direction from federal and provincial/territorial governments that will enable investment in new infrastructure to meet the needs of Canadians. Unfortunately, though the federal government has been good at crafting and announcing aspirational targets and commitments, the electricity industry has been left wanting for details. In fact, during one week last spring, Canada had three different emission targets for 2030.
The government committed to releasing a discussion paper on a net-zero grid before the end of last year. It was ultimately released in mid-March, but mostly asked questions about how a policy might be shaped. In effect, it only kicks off consultations. The clock is ticking and we're still talking when we need to start building.