French food giant and Toronto company team up to harness the new promise of Canadian oats
Canada is great at growing oats, just not so great at processing them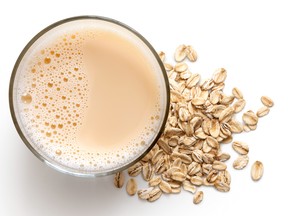 Canada grows more cash crops than almost anywhere in the world, and yet much of it is exported as raw commodities, rather than as processed goods, such as oat-protein powder. Photo by Getty Images
Oat Canada, a Toronto-based maker of oat milk, gets its crops from Alberta. But the oats don't come east, at least not right away. They're shipped to the United States or Europe to a facility that processes them into a concentrated protein powder. The powder then goes to a production plant in Ontario, where it's mixed with water, minerals and vitamins, sealed into red tetra packs, and sent to stores in Canada.
It would be easier to do it all at home. But since it started in 2020, Oat Canada hasn't been able to find a facility in Canada that can do the surprisingly complex work of turning oats into ingredients for dairy substitutes.
"It's expensive," said Oat Canada co-founder and CEO Eloise Bucais Ambursley. "Our lead times are much longer."
That's the Canadian way. Canada grows more cash crops than almost anywhere in the world, and yet much of it is exported as raw commodities, rather than as processed goods, such as oat-protein powder.
Prime Minister Justin Trudeau's government sees the boom in plant-based products as a chance to change that old story, and has set up an "innovation supercluster" in Saskatchewan to help grow the food-processing sector into a global powerhouse that could supply a growing market for meat and dairy substitutes with ingredients made with Canadian peas, beans, lentils and grains.
Article content
"Whether or not that processing will eventually happen in Canada, that's a business decision that organizations have to make," Greuel said. "But the first step is developing a novel processing technology to extract and create high protein ingredients here in Canada."
A major benefit of the deal is expanding Roquette's interest in Canada beyond yellow peas. The French processor opened a $600-million facility in Portage La Prairie, Man. last year to process Canadian yellow peas into inputs for plant-based food manufacturers. The company bills the facility as "the largest pea protein plant on Earth."