Frito-Lay's standoff with Loblaw drags on, opening a window on how Big Food is fighting inflation
Grocers are digging in against a wave of suppliers looking for more money as food prices rise more than 7%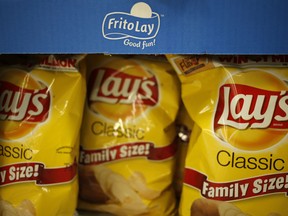 PepsiCo Inc, the parent of Frito-Lay's, hasn't sent brands from its food division to Loblaw's network of more than 2,400 stores since Feb. 12. Photo by Luke Sharrett/Bloomberg
Loblaws and Frito-Lay are still fighting over the cost of potato chips, more than six weeks after the snack giant cut off Canada's largest grocer for refusing to pay a higher price for its product.
The standoff has opened a window into the private negotiations between grocers and suppliers, at a time when both sides are grappling with the most intense period of inflation in a generation. It's not totally uncommon for suppliers to stop shipments when negotiations break down, though the disputes are usually resolved within a matter of days or weeks — often before consumers start noticing.
Not this time. The spat between Frito-Lay's parent company, PepsiCo Inc., and Loblaw Companies Ltd. has played out in public from the start, thanks to a report in La Presse last month, which could be putting added pressure on the negotiations.
PepsiCo hasn't sent brands from its food division to Loblaw's network of more than 2,400 stores since Feb. 12. In a statement last month, the manufacturer said it was asking for more money to offset "unprecedented" rises in the cost of ingredients, fuel and packaging. But Loblaw said it's been flooded with similar requests from suppliers across the country and needs to stay "laser focused" on minimizing costs, as food inflation builds to a 13-year high. Senior executives from both companies are still in regular discussions, but have yet to reach a deal, leaving Loblaw's snack aisles looking much different than they did two months ago.
Article content
The move to stop shipping products was once considered to be the "nuclear" option for suppliers, especially with a company like Loblaw, the biggest member of Canada's grocery oligopoly, controlling about a third of the country's grocery market.
But withholding shipments is becoming more common, as cost pressures build up throughout the supply chain, said Graydon of FHCP. "It's brutal out there," he said.
The PepsiCo-Loblaw dispute isn't the longest example of a supplier withholding shipments, but "it's not the norm," Graydon said.
Late last year, for example, the global food manufacturer Mondelēz International Inc. stopped sending products from its biscuit category to Loblaw, including Oreo and Ritz, as part of a price dispute, a source confirmed. Mondelēz ended shipments for about a week and a half before negotiators came to an agreement, according to the source, who wasn't authorized to speak publicly about the deal.