Goldman Sachs is bullish on 3 tech stocks with up to 300% upside
The Wall Street giant sees plenty of stocks worth buying at their current prices.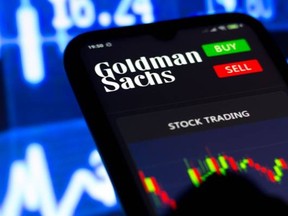 rafapress/Shutterstock
This article was created by MoneyWise. Postmedia and MoneyWise may earn an affiliate commission through links on this page.
After a prolonged bull run, stocks have used the start of 2022 to take a (deep) breather. Several big-name, high-flying tech stocks like Netflix and Meta are down more than 20 per cent in just the past month.
Could this be a "buy the dip" opportunity for investors who were previously standing on the sidelines?
Not all stocks are the same. But according to Goldman Sachs, plenty of companies are worth buying at their current prices.
Here's a look at three stocks that recently received "buy" ratings from the Wall Street giant. You might want to pounce on one of them with some of your extra cash .
Chipmakers were on fire in 2021, with Marvell Technology being one of the big winners in the space. Even with the recent dip, shares of the Wilmington, Del.-based semiconductor company are up about 45 per cent over the past year.
Article content
Snowflake has received more investor attention and now commands a market cap of over US$80 billion.
In the three months ended Oct. 31, revenue surged 110 per cent year over year to US$334.4 million. Notably, net revenue retention rate was a solid 173 per cent.
The company continued to score large customer wins. It now has 148 customers with trailing 12-month product revenue of more than US$1 million, compared to 65 such customers a year ago.
Goldman Sachs recently raised the price target on Snowflake shares to US$390 — about 52 per cent higher from current levels — and maintained its buy rating for the company.
Snowflake has traded recently at about US$250 per share. But you can get a piece of the company using a popular stock trading app that allows you to buy fractions of shares with as much money as you're willing to spend.