Here's what will cost Canadians more in 2022
Be prepared for mounting costs across the board this year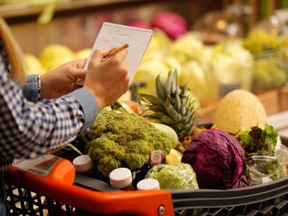 Nestor Rizhniak/Shutterstock
Canada's inflation rate climbed to a 30-year-high of 5.7 per cent in February, according to a recent report from Statistics Canada, and economists warn that the price shock could worsen.
"Based on our oil price assumption, we believe inflation will peak at just above six per cent in the next two months. But I will say that everyone has been surprised to the high side on inflation, and the risks are tilted to higher yet," says BMO chief economist Douglas Porter.
And it's not just oil that's gone up. Food, car and home prices have been surging as well.
Here's a look at what's going to cost more in 2022 — and how Canadians can navigate these escalating prices.
Article content
"Combined with higher interest rates and higher prices, we could be at a turning point where price growth begins to slow down and inventories finally begin to recover after seven years of declines," said CREA senior economist Shaun Cathcart in a March news release. He adds that building new homes is key to balancing the market.
More from MoneyWise
Prospective homebuyers should do their research and shop around for lower mortgage rates. You're more likely to get approved for a lower rate if you put down a larger down payment — try to scrounge up at least 20 per cent — and spruce up your credit score so you look better to lenders.