Higher oil prices give Chrystia Freeland more room to spend in April budget
The government is set for an even bigger revenue windfall than it projected in December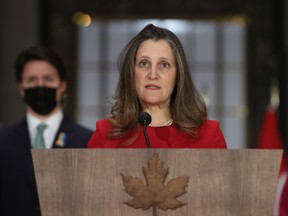 The better-than-expected fiscal picture will allow Finance Minister Chrystia Freeland to deliver on campaign promises from last year's election in the next federal budget. Photo by David Kawai/Bloomberg
Surging commodity prices are giving Finance Minister Chrystia Freeland breathing room to deliver on spending demands in next month's budget without pushing Canada off a trajectory that will nearly balance the books in five years.
The government is set for an even bigger revenue windfall than it projected in December, economists say, as higher energy prices boost corporate taxes and fuel incomes in the world's fourth-largest producer of oil.
Revenue could surpass projections by as much as $30 billion (US$23.6 billion) over the next two years, though the governing Liberals are likely to book a more conservative amount given extreme levels of uncertainty and volatility as a result of Russia's war in Ukraine.
Still, the better-than-expected fiscal picture allows Freeland to deliver on campaign promises from last year's election, along with new measures to spur growth and innovation, without fuelling deficits that could stoke inflation that's already at a three-decade high.
Article content
There will also be other measures, including steps Freeland argues will bolster the nation's long-term growth potential. Business groups are awaiting news on a tax credit for carbon capture utilization and storage, though new funding for the green transition is expected to be incremental this year given the government is still struggling to push billions of already-budgeted dollars out the door.
Overall the budget will be a low-key, circumspect affair that will stand in sharp contrast to the big spending exercises of the past two years.
It's an acknowledgment there's little justification for more deficit financing in an economy already at risk of overheating, thanks in part to tens of billions in pandemic stimulus cheques that have yet to be spent. It's also an attempt to repair some of Canada's reputation for fiscal prudence after a deluge of emergency spending during COVID-19 prompted Fitch Ratings to strip Canada of its AAA credit rating in 2020 — though the two other major agencies maintained it.