How the push to modernize Canada's payment systems went off the rails
Incumbents have slowed progress on a national initiative to promote innovation in payments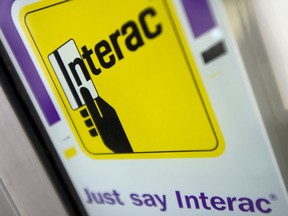 A Interac sign on a business storefront in North Vancouver, B.C. Photo by THE CANADIAN PRESS/Jonathan Hayward files
MONTREAL — In the days before the December holidays, the organization in charge of Canada's national payments infrastructure made a disclosure that came as little surprise to the country's fintech sector: the launch of a new national system that would let businesses process consumer payments instantly would once again be delayed.
Payments Canada, a non-profit organization that reports to the government, started laying the groundwork for the project, called the Real-Time Rail, in 2015 as part of an ambitious effort to modernize Canada's financial plumbing for the digital age. The tech industry in particular welcomed the initiative, which it believes will drive innovation by making it easier and cheaper for fintechs and other companies to develop new services for consumers.
But progress on modernizing how Canada's payments system works has turned out to be painfully slow. The latest timeline showed the network won't launch until mid-2023 at the earliest—four years after it was first scheduled to launch—and if history is any guide, it will probably be longer.
Article content
One major theme emerged from those conversations: Canada's largest financial institutions still largely control the direction of Payments Canada, despite legislative reforms which gave it a majority-independent board and a mandate to develop public infrastructure. That, sources said, has been a major factor in slowing down progress on initiatives that run contrary to the banks' business interests, including the Real-Time Rail.
We want our customers to be happy, but our objective is to get more customers

Tracey Black
Inside Payments Canada, sources said, the tension between banks' interests and those of other stakeholders played out through lengthy debates around costs and which features to include in the system. Eight people told The Logic that a false start in working with the country's main existing payments provider—Interac, owned jointly by Canada's largest banks—also led to delays in the project's development.