Howard Levitt: Recording your bosses and coworkers may be legal, but it can also get you fired with cause
Employees should be warned that surreptitious recordings have consequences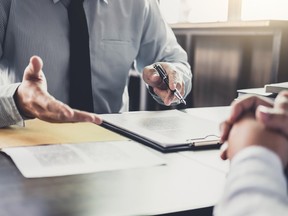 You can lose your job or potentially even be sued for violating confidentiality. Photo by Getty Images/iStockphoto files
Howard Levitt and Hani Shamsi
Many employees believe that they can "legally" tape record workplace conversations with their managers and coworkers. After all, unlike in the U.S., recording conversations is not a crime under Canada's Criminal Code, provided the person doing the recording is part of the conversation.
But, except in rare instances, as we have written, recording workplace conversations, while not criminal, is still cause for discharge. This has often arisen in our own practice while acting for employers when an employee, in a "got you" moment, produces tapes of their workplace conversations. Our general reaction is to immediately amend the defence to plead cause for that employee's discharge.
Termination with cause, especially for misconduct discovered post-termination, is rare and difficult. But the Supreme Court of British Columbia just affirmed our view in deciding that Roman Shalagin, a Certified Chartered Accountant and Mercer employee of 12 years, was properly terminated for cause because he had surreptitiously recorded numerous conversations with colleagues since 2010, especially since he acknowledged that he well knew that these recordings would make "people feel uncomfortable if they knew."
Article content
Mercer changed its defence strategy and changed the without cause dismissal to a "with cause" one. And they succeeded. The court decided that "surreptitious recordings can cause material damage to the relationship of trust between employee and employer."
We might add that that is rather obvious. How can one work comfortably, in an environment of trust, if your workplace chatter was being surreptitiously recorded by a co-worker?
While Shalagin attempted to justify the recordings to learn English, track compensation discussions and address alleged workplace discrimination, he acknowledged that his colleagues would have felt uncomfortable about these recordings. Yet he continued to make them for years.