If you moved to Canada or left Canada, you may be missing out on retirement benefits
You could have money coming even if you left the country, or lived here briefly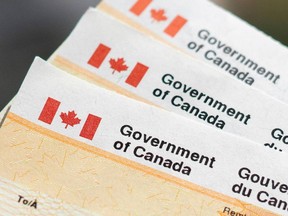 Backcountry Media/Shutterstock
Whether you spent two years or 40 living and working in Canada, you're entitled to enjoy the fruits of that labour.
But some current or former residents of Canada may not even realize they are eligible for various retirement benefits. Those who have spent a good chunk of their working life outside Canada may think they don't qualify — but chances are good they would be wrong.
To receive these benefits, you'll have to apply for them. Here's what you should know to make sure you're not leaving retirement money on the table, whether you're at home or abroad.
You can claim benefits from the Canada Pension Plan as soon as you are 60 years old, or choose to start drawing benefits later, up to age 70.
Article content
Service Canada offers a few examples of what this looks like. Take Thomas, 65, who's originally from Austria. He lived and worked in Canada as an adult for 16 years, before deciding to move home to care for his elderly parents.
While he's four years short of the standard 20-year minimum, Canada's social security agreement with Austria means he'll still eligible for a partial payment. How much he gets depends on the number of years he lived in Canada. Since you receive the maximum after 40 years, that means Thomas will receive 16/40ths or 40% of the upper limit of OAS payments.
Benefits for those who left Canada
The same principle applies in reverse for Canadians who work abroad for some of their career.
Say you take an opportunity to work for your company's Belgian branch, based in Brussels, for five years before returning to Canada. Over those five years, any contributions you make to the Belgian pension plan won't be lost since it's one of the countries Canada has an agreement with.