From forecasting performance to tracking expenses, spreadsheets make every business run smoothly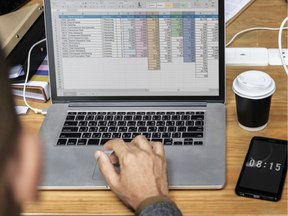 Reviews and recommendations are unbiased and products are independently selected. Postmedia may earn an affiliate commission from purchases made through links on this page.
Article content
This article was created by StackCommerce. Postmedia may earn an affiliate commission from purchases made through our links on this page.
Ever since Microsoft Excel hit the workforce, spreadsheets have crossed over to become one of the most necessary tools for the digital age. From cataloguing performance to keeping track of employees and even using its wide array of formulas to forecast earnings and pull insightful analytics, the spreadsheet is quite capable. And now, AI can help streamline some spreadsheet tasks, which is precisely what SheetGPT does. 
Article content
Designed to help professionals create AI-driven content in bulk, SheetGPT connects ChatGPT to Google Sheets, meaning you can connect prompts and the content they elicit to different cells and automate your spreadsheet production. For those who don't know, Google Sheets is a free-to-use spreadsheet program that links to your Google Drive and contains most of the same capabilities and features as Microsoft Excel. 
Article content
You can browse the web with SheetGPT by inputting URLs and pulling full pages of content to funnel into and organize into your spreadsheet as you see fit. Helping users automate the work they do with Sheets and ChatGPT, this program is available and works in all languages. And if the potential sounds great but applying it seems less attractive, you can get your brain flowing with the subscriptions prompt library, which delivers effective lists of prompts to you when logged in. 
You can create unlimited AI content with SheetGPT, a game-changer for businesses that thrive on data collection and analysis. This license includes a basic plan for personal use for one user. For companies and contractors who are looking to save on expenses while increasing productivity, this deal represents excellent potential. 
Grab a SheetGPT Single User Plan Lifetime Subscription for just $66.99 for a limited time.
What: Limited-time discount
Price: $66.99 (down from $405.05)
Where to buy: SheetGPT Single User Plan: Lifetime Subscription
Prices subject to change.