Larry Fink says Ukraine war marks end of globalization
BlackRock's annual letter also says the war could accelerate the global shift to green energy and digital currencies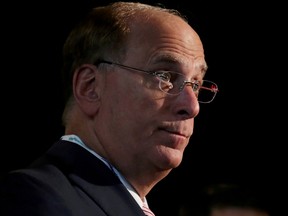 "The Russian invasion of Ukraine has put an end to the globalization we have experienced over the last three decades," Larry Fink wrote in his annual chairman's letter to shareholders of BlackRock. Photo by REUTERS/Shannon Stapleton/File Photo
Russia's invasion of Ukraine will reshape the world economy and further drive up inflation by prompting companies to pull back from their global supply chains, BlackRock's Larry Fink has warned.
"The Russian invasion of Ukraine has put an end to the globalization we have experienced over the last three decades," Fink wrote in his annual chairman's letter to shareholders of BlackRock, which oversees US$10 trillion as the world's largest asset manager.
While the immediate result has been Russia's total isolation from the capital markets, Fink predicted "companies and governments will also be looking more broadly at their dependencies on other nations. This may lead companies to onshore or nearshore more of their operations resulting in a faster pull back from some countries."
"A large-scale reorientation of supply chains will inherently be inflationary," Fink wrote, in a wide-ranging 10-page letter that also addressed the invasion's effect on the energy transition and cryptocurrencies, and updated investors on BlackRock's business lines and the reopening of its main offices.
Article content
Though climate activists want investors to shun fossil fuels entirely, Fink rejected this approach, as he did in his January letter to chief executives. "BlackRock remains committed to helping clients navigate the energy transition. This includes continuing to work with hydrocarbon companies," he wrote. "To ensure the continuity of affordable energy prices during the transition, fossil fuels like natural gas will be important as a transition fuel."
In one of his first comments on cryptocurrencies, Fink drew attention to the Ukraine war's "potential impact on accelerating digital currencies…A global digital payment system, thoughtfully designed, can enhance the settlement of international transactions while reducing the risk of money laundering and corruption."