A better understanding of a stock's volatility can inform wiser investing decisions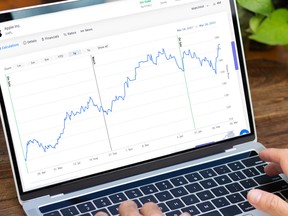 Reviews and recommendations are unbiased and products are independently selected. Postmedia may earn an affiliate commission from purchases made through links on this page.
Article content
We may earn a commission if you make a purchase through one of our links. The newsroom and editorial staff were not involved in the creation of this content.
Article content
Making profitable investments can be challenging, especially for new investors. You can read seemingly endless articles breaking down best practices for investing, different strategies you can employ, and even industries to focus on. However, if you're not in touch with an effective method for analyzing individual stocks, you leave yourself more vulnerable to losses.
Article content
Rated 5 out of 5 by verified purchasers, Tykr can help new and seasoned investors by trying to take the guesswork out of the whole investment process. This all-in-one stock screening and education platform looks closely at stocks you're interested in and helps you determine which ones are low or high-risk. This platform also uses its open-source calculations to help you determine when it's the right time to sell.
Article content
This simple, easy-to-use service can show you great investments within 30 seconds of hopping on. The Tykr platform supports over 30,000 U.S. and international stocks and comes with loads of interesting and educational content. Its well-reviewed approach is known to help savvy investors increase their returns in the market, which is part of why it maintains an impressive 4.9 out of 5 on Trustpilot. But to be clear, Tykr is an information resource that can help teach users when it's best to buy or sell a particular stock. The program cannot make recommendations itself.
Rather than downloading an investing app and beginning to put your money blindly into companies and corporations, perhaps it's worth taking an extra second for analysis and reflection. This premium subscription can help guide that step and put you in a better position to make wise investing decisions. For a limited time, lifetime access to the Tykr Stock Screener is on sale for just $164.
Prices subject to change.