Learn how to use Microsoft Office — limited-time sale
Getting equipped with the best content-production platforms is key to expansion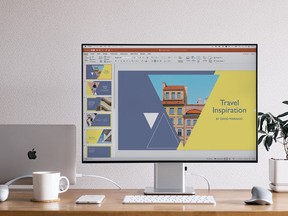 Photo by StackCommerce
This article was created by StackCommerce. Postmedia may earn an affiliate commission from purchases made through our links on this page.
For as long as most of us have been using computers, Microsoft Office has been one of the leading platforms for content production. A lot of our earliest memories of using word processors were with Microsoft Word, and PowerPoint introduced the digital slideshow to a lot of our lives — making for some priceless middle school presentations back in the day.
Article content
The Microsoft Home & Business for Mac 2021 comes with a lifetime license for the above programs in the form of a one-time purchase installed on a single mac for use at home or work. With purchase, you will get instant delivery and downloads to access your software and get working right away.
Diving into the software, many of the programs could almost go without introduction. Excel made the spreadsheet one of the most versatile document forms in the world, and the course Microsoft Excel: Data Analysis with Pivot Tables featured in the bundle explains why. It features 85 lectures and a rating of 4.6/5 stars by students. The course breaks down how to analyze data from real-world case studies, sorting, filtering, and a lot more.
For a limited time, you can get The Premium Microsoft Office Training Bundle + Lifetime License for MS Office Home & Business for Mac 2021 on sale for just $101.99.
Prices subject to change.