Letter from Ottawa: The convoy protest is not an ordinary demonstration — it's more damaging and more dangerous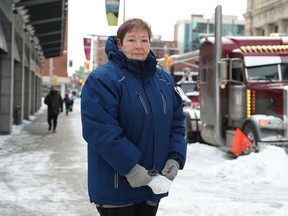 Letter from Ottawa: The convoy protest is not an ordinary demonstration–it's more damaging and more dangerous Bloomberg
By Wednesday, the sixth day of the convoy demonstration, some of the people who live in the neighbourhood around Parliament had had enough.
A handful of counter-protesters holding signs confronted the people encamped in their vehicles on Wellington Street. Someone threw eggs at one protester's SUV. Women stood in the street, refusing to let trucks pass.
Ottawa knows it's a capital city. It's used to demonstrations—the Black Lives Matter protest where Prime Minister Justin Trudeau took a knee; an annual anti-abortion March for Life; a climate march in 2019 that drew thousands. Longer ago, anti-globalization protesters took over downtown for days, hemmed in by riot police from multiple forces. Indigenous activists erected a teepee on Parliament Hill in 2017; Occupy Ottawa demonstrators set up camp in a downtown park in 2011.
If you don't live in Ottawa, this is the thing Ottawans need you to understand: This demonstration that began with the arrival of heavy trucks two Fridays ago is different.
Article content
The 53 women staying at the shelter have almost all been through terrible things, she said, and the Omicron wave has been, in many ways, the worst two months of the COVID-19 pandemic for them.
"If you've experienced trauma, it creates fight-or-flight responses to events that may not even be traumatic. This has been a true trauma that has been layered on top of the trauma people already feel," Dore said. Anxieties are through the roof. One resident checked herself into Ottawa's mental hospital.
Ottawa's transit service has rerouted buses out of downtown, so that's meant more walking in the protest zone. Besides the noise, clients and staff have been harassed on the street, she said, especially if they're wearing facemasks. They've been called sheep and been told to take them off.